Le safran / The saffron
Le safran est une épice extraite de la fleur d'un crocus, le Crocus sativus.
The saffron is a spice extracted from the flower of a crocus, the Crocus sativus.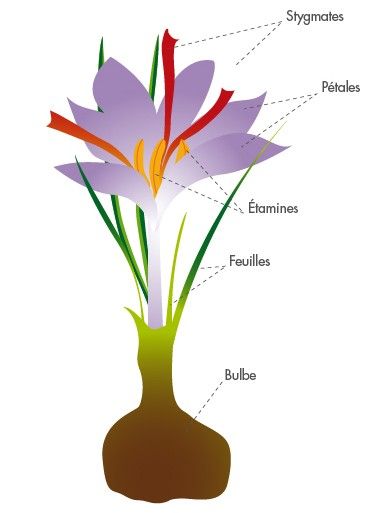 On l'obtient par déshydratation de ses trois stigmates rouges (extrémités distales des carpelles de la plante), dont la longueur varie généralement entre 2,5 à 3,2 cm.
We obtain it by dehydration of the three red stigmas (distales extremities of the carpelles of the plant), which the length varies generally between 2,5 and 3,2 cm.
Les stigmates sont utilisés en cuisine comme assaisonnement ou comme agent colorant. Le safran, poétiquement appelé "Or Rouge", est l'épice la plus chère au monde. Il est originaire du Moyen-Orient. Il a été cultivé pour la première fois dans les provinces grecques, il y a plus de 35 siècles.
Stigmas are used in cooking as seasoning or as coloring agent. The saffron, poetically called " Red Gold", is the spice the most expensive to the world. It is native of the Middle East. It was cultivated for the first time in the Greek provinces, more than 35 centuries ago.
Le safran est caractérisé par un goût amer et un parfum proche de l'iodoforme ou du foin, causés par la picrocrocine et le safranal. Il contient également un caroténoïde, la crocine, qui donne une tonalité jaune-or aux plats contenant du safran.
The saffron is characterized by a bitter taste and a perfume close to the iodoforme or to the hay, caused by the picrocrocine and the safranal. It also contains a carotenoid, the crocine, which gives a yellow-golden tone to dishes containing of the saffron.
Ces caractéristiques font du safran un ingrédient fortement prisé pour de nombreuses spécialités culinaires dans le monde entier, notamment dans la cuisine persane.
These characteristics make of the saffron an ingredient strongly appreciated for numerous culinary specialities all over the world, in particular in the Persian cooking.
Le safran possède également des applications médicales (voir ici).
The saffron also possesses medical applications (see here).
Récolte :
Harvest :
Le crocus sativus est une plante hivernale, sa fleur commence à fleurir en octobre jusqu'en novembre.
The crocus sativus is a wintry plant, it begins to bloom(prosper) in October until November.
Les fleurs doivent être récoltées tôt le matin car elles fanent vite pendant la journée et les stigmates perdraient de leurs qualités.
Flowers must be harvested early in the morning because they would wilt fast during the day and stigmas would lose of their qualities.
La récolte est manuelle et s'effectue par plusieurs passages selon la floraison.
The harvest is manual and is made by several passages according to the blooming.
Une fleur fournit environ 7 milligrammes de safran, il faut 150 fleurs pour obtenir 1g de safran sec.
A flower supplies approximately 7 milligrams of saffron, are needed 150 flowers to obtain 1g from dry saffron.

Pruning and drying:
Sitôt après la cueillette des fleurs on procède à l'émondage, opération manuelle où l'on sépare les stigmates du style (tige du pistil).
Immediately after the picking of flowers we proceed to the pruning, the manual operation where we separate the stigmas of the style (stalk of the pistil).
Le séchage est une opération importante car elle déshydrate le stigmate de 80% de son poids!
The drying is an important operation because it dehydrates the stigma of 80 % of its weight!
Auparavant séché au soleil, cette opération est aujourd'hui réalisée dans des fours automatisés pour une meilleure qualité du nouveau safran.
Previously dried in the sun, this operation is realized in ovens automated for a better quality of the new saffron today.
Le conditionnement se fait dans un récipient bien hermétique et gardé dans un endroit sec, à l'abri de la lumière.
The packaging is made in a bowl very hermetic and kept in a dry place, shielded from the light.
Le style et les étamines ne participent pas à l'épice.
The style and the stamens do not participate in the spice.
Selon la coupe entre stigmates et style on obtient des types de safran de caractéristiques différentes et des noms par pays et régions.
According to the cutting between stigmas and style we obtain types of saffron of different characteristics and names by countries and regions.